Clark County dust control sign are needed at residential and commercial building sites. The Clark County Dept. of Environment and Sustainability require a dust control sign on the premises as part of their requirements. Another requirement is to have a person designated as a responsible party for dust control matters. This responsible party has to take a dust education class taught by the Clark County Dept. of Environment and Sustainability. All these regulations and many more are because the good people at Clark County want to make sure the dust does not go into the air that we all breather. So the Southern Nevada desert has loose topsoil that is composed of a fine dust. On windy days or when the soil is moved around, the dust goes into the air. This causes pollution and makes for health concerns for sensitive people.
The dust sign Vegas must contain specific information on it. The person responsible or permittee, the permit number and the expiration date of the dust permit. Also the acreage of land involved, responsible party phone number and project name must be printed on the dust control sign. So your Vegas dust sign must be a minimum of 4ft x 4ft with the text printed in certain heights. The dust permit signs are made with a double sided aluminum substrate or a 1/2″ thick MDO board. The dust signs must be clearly visible to the public for easy viewing.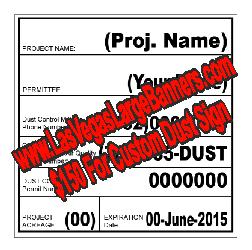 Clark County Dust Control Sign Cost About $150.00
The Las Vegas dust signs take about one or two days to make. They cost about $150 each and can be made same day in cases of emergency. Sometimes a dust sign gets stolen or damaged and needs replacing. So when the Clark County govt people want a new sign up, its best to get it replaced quickly. As they have the power to shut your job site down and issue fines.