Cheapest vinyl banners Vegas can get you low cost Las Vegas banners for your event or business. The local businesses in Vegas like these Vegas banners because they are cheap and a very effective marketing tool. In these post covid times, businesses need all the help they can get. Small businesses are learning that they can place Vegas banners on their buildings and get noticed. They display the banners to all the passing cars. The Nevada Dept. of Transportation does traffic studies and say relate that thousands of vehicles are driving on the major streets of Vegas every day. So by lacing a Las Vegas banner on your building will get your business noticed. These banners Las Vegas can be custom made to any size you want.
The banner signs are full color . Meaning you can have as many colors printed on the banner as you like. So this includes banner printing of images and pictures.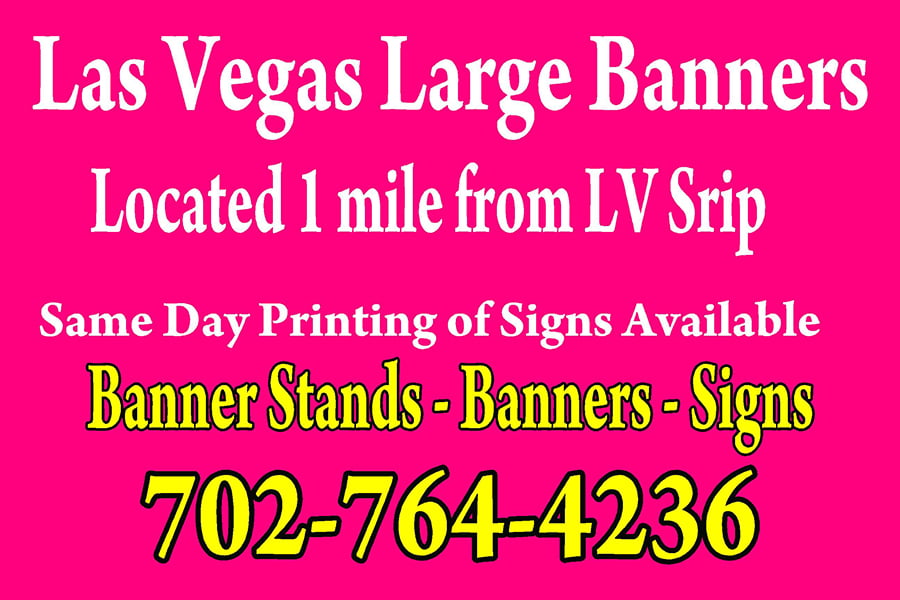 Cheapest Vinyl Banners Vegas Are Great For Businesses Next To The Freeway
Local Las Vegas stores adjacent to the freeways really like these banners Vegas. The reason being is they act like a billboard. Smart businesses are placing large banner signs on the back of their buildings. So they can be seen by the cars driving by. Thousands of vehicles are driving on the freeways of Las Vegas every day. So as these people drive by in morning and afternoon traffic rush, they look around. They will take notice of your banner sign. So these stores will place large banners like 8ft tall x 25 feet wide and bigger on their buildings. The Vegas banners will last well more than a year and that equates to just pennies a day to be sen by thousands of people. it is a great return on investment.