Cheapest banner stands Vegas is a good term to research when looking for inexpensive roll up Banners and stand. Cheap banner stands are necessary for the convention and trade shows when you are only going to use it for one event. Often the banners and signs are used for a specific event. So at the end of the event, the proprietary banners and signs are simply thrown away. Why pay high prices for a retractable banner stand when you can get it cheaper and with high quality ?
Cheap roll up banner stands do not mean inferior quality. The banner stands that Las Vegas Large Banners uses are made with an aluminum casing. Also the pole that holds up the banner adjusts for different height. So you can get the perfect fit. All banner stands come with a free nylon carrying case which allows easy transportation to your events. So these banner stands are made to last and can be used at many events.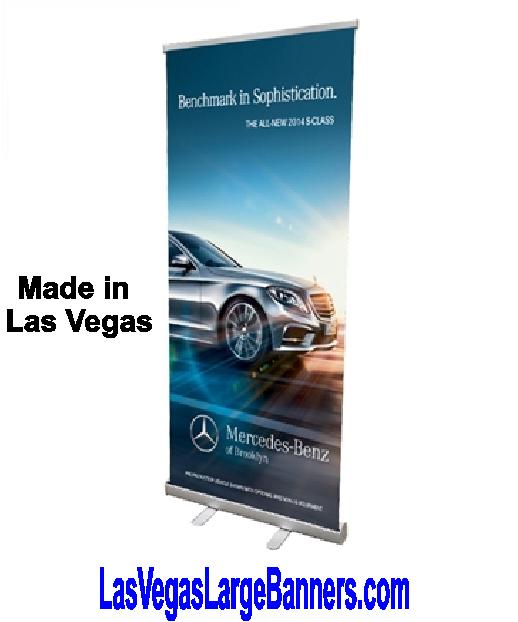 Where To Buy Cheapest Banner Stands Vegas.
Las Vegas banner stand sign shops service the convention and trade show industry. So they use modern printers capable of making stand up banner stand quickly and efficiently. The banner substrate is either a banner material or a poly coated material with a very smooth surface. The banner stands are printed with eco solvent ink that is environmentally friendly. This ecologically sound inks bring out the bright and vivid colors of your design. The inks can be used both indoors as well as outdoors and are designed to last a long time.
Same day banner stand printing is available many times. Rush orders are frequently needed when it comes to conventions and trade shows. Many times design graphics get lost or damaged and need fast replacing. Your Local Vegas sign store will have additional information s on these portable sign displays.