Cheap vinyl banners are a blessing for local Las Vegas stores who want to do low cost advertising. Las Vegas banners are being used at local stores to advertise their businesses. They are printing custom banner signs and placing these Vegas banners on their buildings. So they sort of act like a billboard.
The Nevada Dept. Of Transportation comes out and does traffic studies in Las Vegas to determine how many cars are driving on streets. it turns out that several thousand vehicles drive the streets of Vegas every day. So streets like Eastern Ave, Sahara Ave and Flamingo see thousands of vehicles drive on them every single day. So smart businesses are placing Vegas banner signs on their buildings. The occupants in the cars driving by will see them and hopefully be interested in your products or services.
These banners Vegas are custom made to any size you need. So if your store is far away from the street, you would need a bigger banner to be seen. The Vegas banners are full color banners. Meaning you can print as many colors on the vinyl banners as you like. This also includes printing pictures and images on the banners. So when PlayStation games were in short supply and your company had several to sell. They would print a picture of a PlayStation with the word " available" and people would stop right away and buy one. One store at Christmas was able to move 50 video games in three days with a vinyl banner advertising.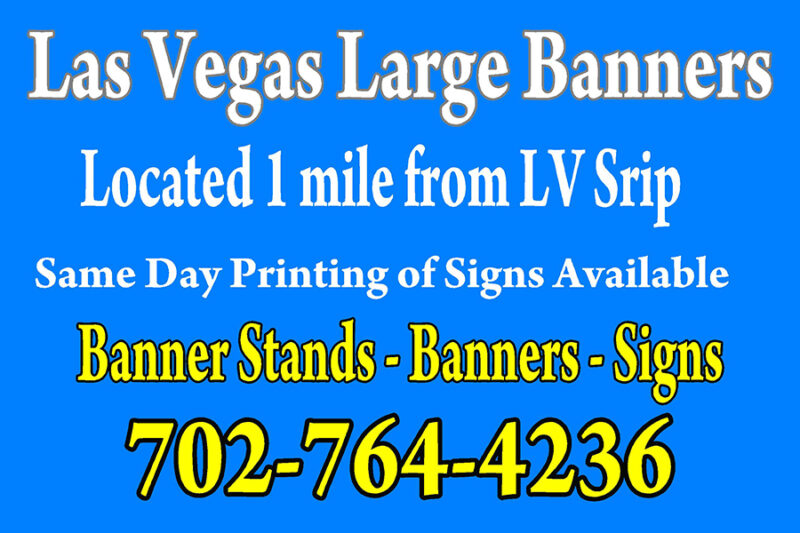 Same Day Cheap Vinyl Banners
Las Vegas banner printing is one of the easiest things to do for a sign shop. The large format printers do most of all the work. The printers are capable of printing banners signs fast and cheap. The production of the new printers is amazing. So it allows for more banner production per hour than previous large format printers. The signs and banners also print in higher quality.