Cheap Vegas convention banner displays are perfect for the convention and trade show venues. These tradeshow banner sign displays are perfect for booth visual signs. The backdrop sign displays come in many sizes and shapes to meet your marketing needs.
The most common size tradeshow backdrop display is the 8ft and 10ft sizes. The 8ft backdrop sign display is easy to set up. The sign display is wrinkle free and comes in the straight or curved versions. Best of all you can simply purchase another fabric banner display to place over the already purchased frame. So this will save you a lot of money. So just use the same sign frame and swap out the fabric covering.
The other common size convention backdrop sign display 10ft model also comes with the straight or curved models. These large backdrop banner displays are easy to set up. So again the fabric banner can be purchased separately. Once the sign display frame has been bought, you can save a lot of money by just buying the fabric banner. If you choose to use the same fabric banner over and over. The fabric banner is machine washable. So it will always look fresh and new for every event.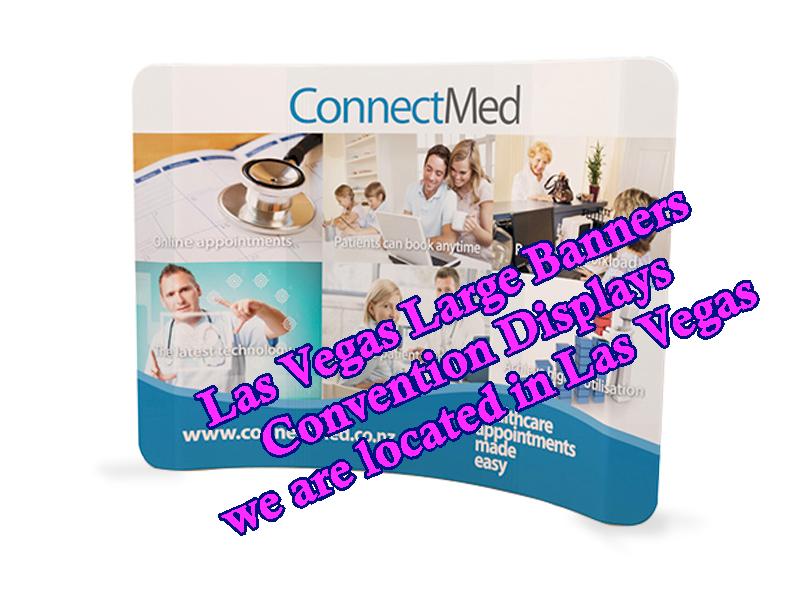 Cheap Vegas Convention Banner Displays Are Easy To Set Up
The set up process for convention backdrop sign displays is easy. The kit comes with an aluminum frame that assembles easily in a few minutes. So then the fabric banner print is placed over the frame. The fabric banner is either stretched over the frame or placed over the frame and zipped up on the side. The tension on the fabric banner makes for a wrinkle free sign appearance. Total set up time for a few people is less than 1o minutes.