Cheap retractable banner signs are available for the many events and shows being held in Las Vegas. Las Vegas is the king of events and hundreds of companies from around the world come to Vegas to display their products. So this brings millions of people from all over to see what the latest and newest products are becoming available. These millions of people who come every year give an economic boom to the Vegas economy. Many signs and banners are needed for these events. The companies and vendors like the trade show backdrop banners, foam board signs and vinyl banners. Also the companies like the portable pull up banner stands. These pull up banner stands can be placed anywhere as they are self standing. So they can be place anywhere.
The retractable banner stands come in many different sizes to meet your marketing needs. The most common size roll up banner stand sign is the 33″ wide by 78″ tall sign. This sells for about $125.00 and can be printed and made very quickly. So this model allows for about 17 square feet of printable space. So pictures and images can be printed on the banner graphic in full color. Full color printing allows for as many colors you want printed on your sign. There is no limit to the amount of different colors printed.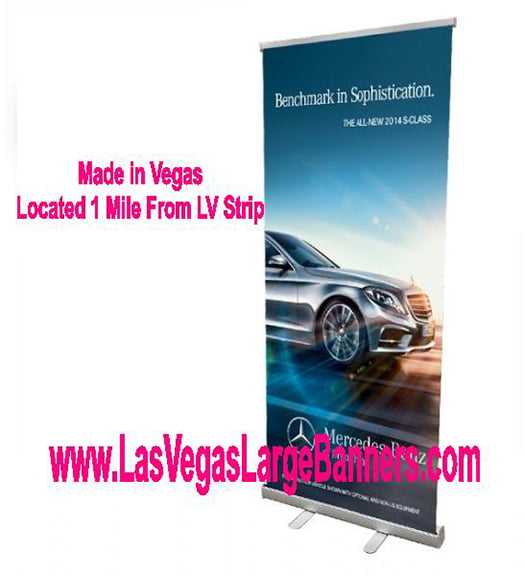 Cheap Retractable Banner Signs Can Be Made Same Day
Same day banner printing of banner stands can be done by Las Vegas sign shops. These sign shops have modern sign making equipment capable of printing signs and banners fast. Also at a good price. So because these sign printers are able to print faster than ever before. The price of Vegas sign printing and Vegas banner printing has actually fallen. So same day sign printing is not all that expensive anymore.