Cheap Las Vegas banners are great great for events and shows. Why spend a lot of money on a banner sign if you are only going to use it at one event ? There are hundreds of events held annually in Vegas that require lots of signs and banners. At the end of the event, the Vegas banners and Vegas signs are thrown away. So often the signs are proprietary to an event and cannot be used at different events. So why not buy cheap Vegas banner signs that are high in quality.
These Vegas vinyl banner signs can be made in any size to meet your marketing needs. So your banner signs can be as small as 1ft x 3ft all the way up to 10ft tall x 40 feet wide and larger. Step and repeat banners are also available in the popular 8ft x 8ft step and repeat banner and the 8ft x 10ft step and repeat banner.
Fabric banners can also be made. So these fabric banners are printed on a polyester material that allows for a wrinkle free appearance. Pole pockets at the top and bottom are standard for easy displaying purposes. So the pole pockets make it easy to display plus the poles bring tension to the fabric material.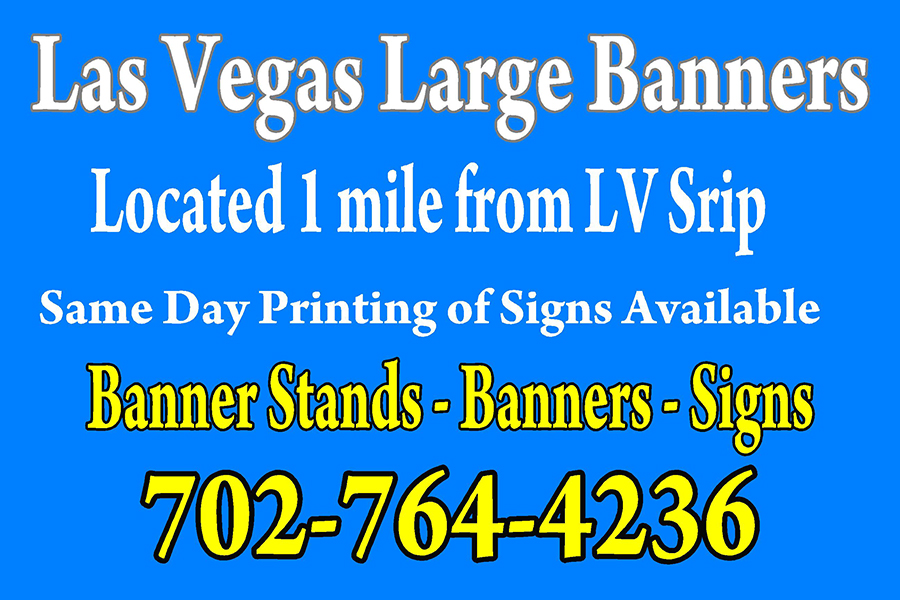 Cheap Las Vegas Banners Come in Many Sizes
Cheap vinyl banners come in a multitude of sizes. Customers will call up and ask for a standard banner size. But there is none. Banners are made in many different sizes. So these vinyl banners are printed on 13 ounce vinyl banner material with Eco-solvent inks. These inks are designed to bring out the vividness of your design. They are designed to prevent fading. Which is important in Southern Nevada when it gets over 100 degrees during the summer time.