Cheap large backdrop banners Vegas can get you that large background banner sign inexpensive. Large backdrop banner printing is available in Las Vegas at a very good price. Why have your banner printed somewhere else and ship it into Vegas and have to pay that large shipping expense ? Many vendors and companies coming into Las Vegas for an event or show prefer to have their large backdrop banner signs made locally. This way they know the large vinyl banner will be ready when they arrive in Vegas. So of course delivery or pick up is available.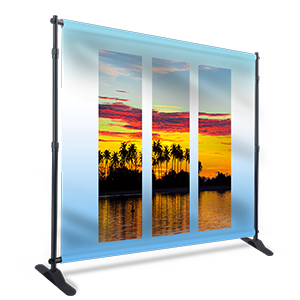 Cheap Large Backdrop Banners Vegas Are Used For Events & Shows
Backdrop banners are used a lot at trade shows and conventions in Las Vegas. Vendors and companies like to use these large backdrop banners for the rear of their display exhibits. This way the sales people can refer to the large banner while they are speaking to you about their products. The 8ft x 8ft backdrop banner is very popular along with the 8ft x 10ft backdrop vinyl banner. However large backdrop banners can be many different sizes and custom made. So as to meet your marketing signage needs. These vinyl backdrop banner signs are generally p[printed on a 13 ounce vinyl banner material. The banner is then hemmed and grommets are placed every twenty four inches on all four sides. The background vinyl banners can also be made with a pole pocket at the top and bottom.
Fabric 8ft x 8ft backdrop banners are also available. So are fabric 8ft x 10ft backdrop banners. The fabric backdrop signs are wrinkle free and easy to put away after the event. The polyester fabric banners are machine washable . So after every event they can be cleaned and made to look like new for the next event.