Cheap dust signs Vegas is good for people needing dust signs for their residential home building or commercial developments. The Clark County Dept. of Environment and Sustainability regulate the dust issues in Clark County. It is there job to protect the population against dust going into the air. So the desert has a lot of loose soil that the wind kicks up and pollutes the air. It makes it very difficult to breathe for people with certain medical conditions. So Clark County has a division to help contractors limit the amount of dust doing into the air at job sites. So Clark County makes responsible parties at the construction location take Vegas dust classes to learn how to prevent or minimize the dirt going into the air.
Vegas dust signs are mandated at construction sites where dirt is going to be moved around. On the dust permit signs certain information has to be present. On the dust control sign the permittee, acreage and permit number needs to be on it. In addition, the contact information of the responsible part, permit expiration date and other information. The information has to be a certain height in a easily readable font. So then the sign has to be displayed in the front of the property where the public can easily read it.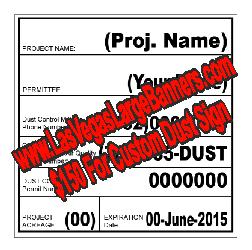 Cheap Dust Signs Vegas Are Not Expensive And Can Be Made Fast.
The dust signs are good for one year. If there is an extension of the dust permit, you can place a sticker over the expiration date with the updated information. The dust sign can be made rather quickly. Same day dust signs are available in many cases. So the dust permit signs cost about $150.00. Your local Las Vegas dust sign company has more information on these Vegas signs.