Cheap banner signs Vegas are great for conventions. So with hundreds of conventions a year in Las Vegas many signs and banners are needed. Signs are a big part of a successful convention booth display. So literally thousands of retractable banner stands and vinyl banners are needed for these events every year.
The three large convention venues in Vegas are:
Mandalay Bay Convention Center
Las Vegas Convention Center
Sands Expo
These three large convention venues have over one million square feet of floor space. So this floor space can be divided up into sections and multiple conventions can be held at the same time. Companies love to have there conventions and trade shows in Las Vegas. There is so much to do before and after the events. Las Vegas has fine dining and plenty of entertainment to keep people busy.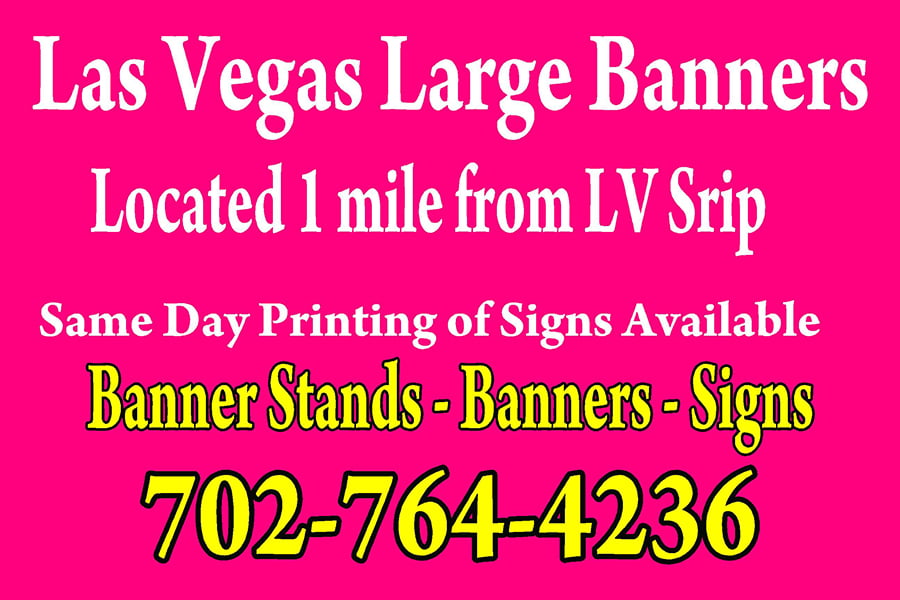 Cheap Banner Signs Vegas Are Great For Local Businesses
Local businesses are being squeezed in these rough economic times. Many local stores have returned to old school advertising. So by placing inexpensive vinyl banners advertising their products on their buildings they can be seen by passing motorists. These vinyl banner signs can be seen from far away and cost pennies a day to have. The average life expectancy of a vinyl banner sign is over one year. So these banners once installed will be displayed to customers for a long time.
Many local businesses will rotate their banner signs so that they are always appear to be advertising new products. So this keeps people interested in watching for the banners. For example a pizza place will place a banner for a large pizza special. So after a couple of weeks, they will change out the banner to a chicken wings special. The idea is to keep offering different food specials to drive patrons into the business.