Cheap backdrop banners Vegas are great for the trade shows and events being held in the Las Vegas area. The vendors and companies that go to these events like Vegas backdrop banners. They will print their company name and logo on the banner signs along with pictures of their products or services. So this makes it really easy for people attending these events to determine if they are interested in their goods. It also makes it very difficult for people not to see your backdrop banner sign. So that is a major complaint of people attending events and shows. They all complain that they walked the event venue but did not see something in particular. So this large backdrop banner is a no brainer for not getting missed.
The backdrop signs are placed at the back of display booths. So this way as the people walk by they get to see your advertising banner. The common sizes for the backdrop display signs are 8×8 banner and 8×10 banner. These seem to be the most popular sizes for tradeshow display booth signs. The large backdrop signs are held up and displayed by adjustable banner stand displays.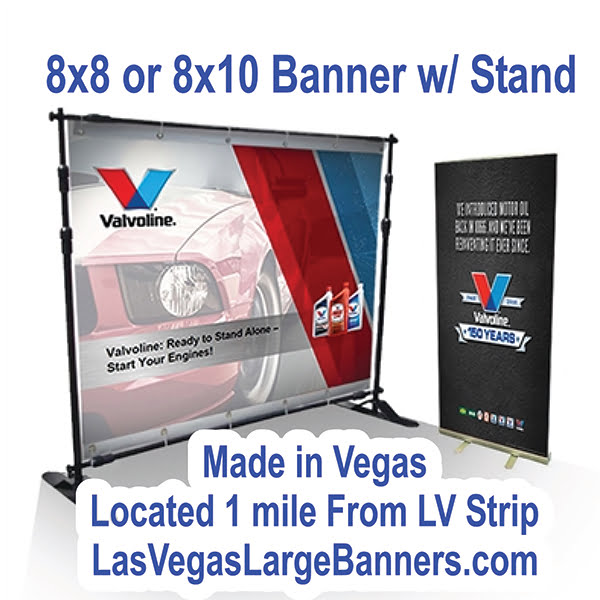 Cheap Backdrop Banners Vegas Are Quality Printed Signs
Las Vegas banners are printed on a 13 ounce vinyl banner material with eco solvent inks. These inks are designed to bring out the bold and vivid colors of your design. The banners are finished with a hem of the perimeter for additional strength. So then grommets are added on all four sides to make it easy to display. Fabric backdrop banners can also be printed on a polyester material. So this polyester fabric has a wrinkle free appearance that everybody likes.
So contact your local Las Vegas sign banner company about getting one of these backdrop signs made for your event.