Big vinyl banner printing Vegas will get you those large banners needed for your event. So these banners can be very large. Need a 8×20 banner ? How about a 10×50 banner ? All these size banners are very doable. The most common size large backdrop banners are the 8ft x 8ft backdrop banner and the 8ft x 10ft backdrop banner. So these sizes appear to fit perfectly at the back of many trade show booths. The vendors or companies will print their company name on the banner with there logo. So after their company identity is on the banner many times they will print color pictures of their products. Then they give a grief description of the products to help people understand what they are designed to do. These backdrop banners are a big hit at the event and shows in Vegas.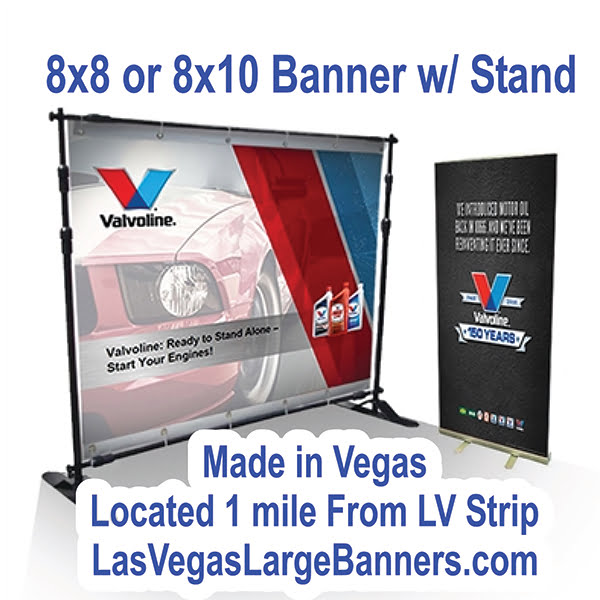 How Is Big Vinyl Banner Printing Vegas Made ?
Large format printers capable of printing with great quality are the sign makers tool. Las Vegas vinyl banner printing is done very quickly on these machines. The printers are capable of printing at very fast speeds. The modern sign printers can print several hundred square feet of material an hour. So this increased printing speed has actually lowered the cost of making Las Vegas signs and banners. The banners are full color. So this allows for pictures and images to be printed along with as many colors as you like on the banner.
Large vinyl banners can be made to any size you want. The banners will come hemmed on the perimeter for additional strength and grommets on all four sides. So in order to make it easy to display. Pole pockets can also be had at the top and bottom. So just in case you decide to use a large backdrop adjustable banner stand to display the banner.