Big banner signs Vegas are being used by smart businesses in Southern Nevada. These businesses are placing these Vegas big banners on their buildings to garner attention of people passing by. The population of Southern Nevada has exploded over the last few years. This is especially true of Californians moving into Vegas to get out of the high cost of living in California. So these new residents are looking for places to shop, eat and recreate. So by placing a large banner sign on your building will certainly get their attention.
The businesses next to the freeways are using Vegas big banners to get noticed as well. They are placing 8×10 vinyl banners on their buildings and larger banners as well. They place them on their stores and aim them towards the freeway. So as the thousands of vehicles drive on the freeways everyday. They get to see the Vegas banner advertising. Some of these large banners are as big as 10ft tall x 50 ft wide. The Vegas banners sort of act like a billboard. But without the monthly rental fees. The vinyl banners will last well more than a year in the outdoor weather. So this equates to just a few pennies a day for a great big sign. Many of the buildings near the spaghetti bowl in the downtown area use these banners Vegas on their building. They are mainly furniture stores.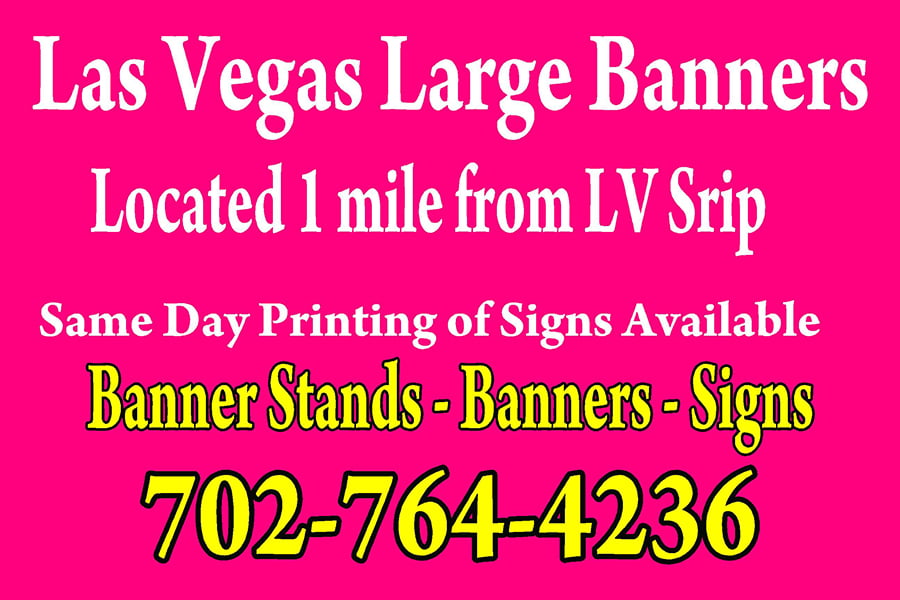 Big Banner Signs Vegas Are Not Expensive
The bigger the banner the lower the price. But most of the time on the big banners you are paying about $2.00 a square foot. If the banners are really big like a 10ft x 100ft you will get a lower price. The Las Vegas banners are full color banner signs. Meaning you can have as many colors printed on the banners as you like. So contact your local large banner printing company today for more information.