Big background banners Vegas can get you those big backdrop banners printed fast and cheap. Big banners are very popular at events an shows in Las Vegas. These large backdrop banner signs can be placed at the rear of stages for props. So these big background banners can also be used at conventions and trade shows. The vendors and companies place these large signs at the rear of the booths to grab the attention of people walking past.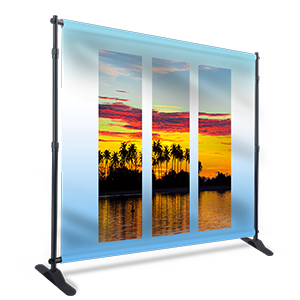 Big Background Banners Vegas Can Be Step and Repeat Banners
Step and repeat banners are the new rage at trade shows and businesses in Vegas. The trade shows like to have the company name printed on the banner with their logo. it is quite impressive to have a large banner with your name appearing alternately on the banner. Many times people will take their pictures against the banner. So this is especially true at upscale night clubs in Las Vegas. The tourist will take selfies against these large step and repeat banners and text the pictures to their friends back home. This creates a jealousy. So when the friends come to Vegas they go to the same night club.
Large backdrop signs are printed on a 13 ounce vinyl banner material. They can be finished with grommets on all four sides for easy displaying. So they can also be printed on fabric. Fabric background banners are increasingly popular. Because they allow for a full color print. So this print also allows for images and pictures to be printed on the polyester fabric banner. The fabric background banners are wrinkle free but much more delicate than a vinyl banner. The good thing is that they are machine washable. So once washed they look fresh and new.
Your local Las Vegas large banner printing store will have more information on these big banner signs.