Best Las Vegas signs will get you those signs and Las Vegas banners needed for your store. Every business in Vegas needs signage. Also stores need to be noticed. Signs and banners is one way to get noticed at an affordable price. Whether you need vinyl banner printing or sign printing, signs are a necessity. There are many options for signs. There are vinyl signs and banners. Also coroplast signs and roll up banner stands. Let's take more of a look.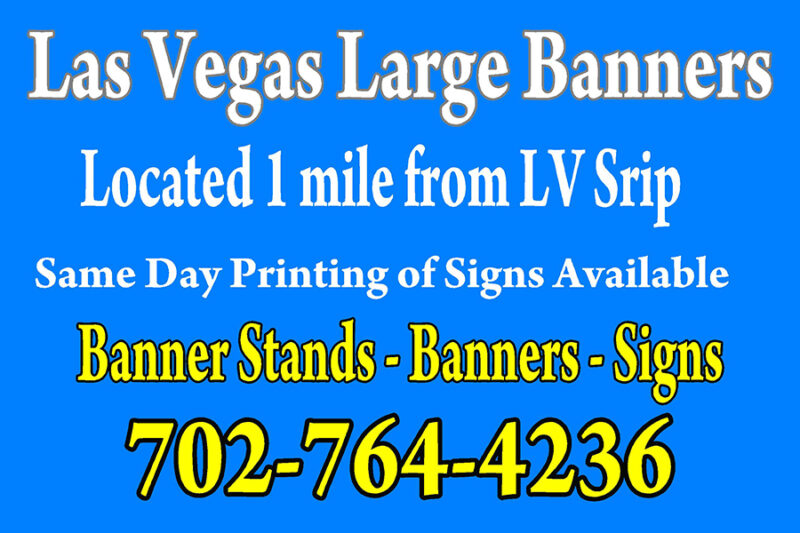 Vinyl Banners Make For Best Las Vegas Signs
Vinyl banners are cheap and a cost effective form of advertisement. Many stores in Vegas hang vinyl banners on their buildings. So as to attract customers. With so many new people moving into Vegas monthly. It only makes sense to advertise. Stores that have a location on a main street or next to the freeway have an advantage. So these vinyl banners act as a billboard and people take notice while they are driving by. new residents are always looking for new places to shop and eat. The Vegas banners act as stimuli to entice the new residents.
Many companies located adjacent to the freeway place large 10ft tall x 30 feet wide banners on there buildings. So when motorists are driving on the freeway they take notice of the large banner signs. Also, these banner signs can be custom made to any size you like. A 10ft tall x 100 foot vinyl banner is not a problem. Once installed, the banner will last for a very long time. Banner printing involves using special inks designed to last a long time. So this is important when it is 120 degrees in summer and you do not want your vinyl banner to fade. The solvent and uv inks are used for banner printing . So to make sure the banner sign last a long time.
Las Vegas signs and Vegas banners can be printed by your favorite Vegas Yelp sign company . Contact your local sign company today and see how banners and signs can increase your business opportunities. You will be glad you did. he signs and banners will get attention and drive traffic to your location.