Best Las Vegas banners printer can lead you to the Las Vegas banner sign store to print your vinyl banners. Vinyl banner printing is increasing in popularity during these hard economic times. So businesses are earning that vinyl banner advertising is a cost effective approach to marketing. These vinyl banner signs can be made very quickly and at a low cost. When displayed at a location they are seen by the motor traffic passing by. So if you are located on a major street. That means thousands of vehicles will be passing your store every day.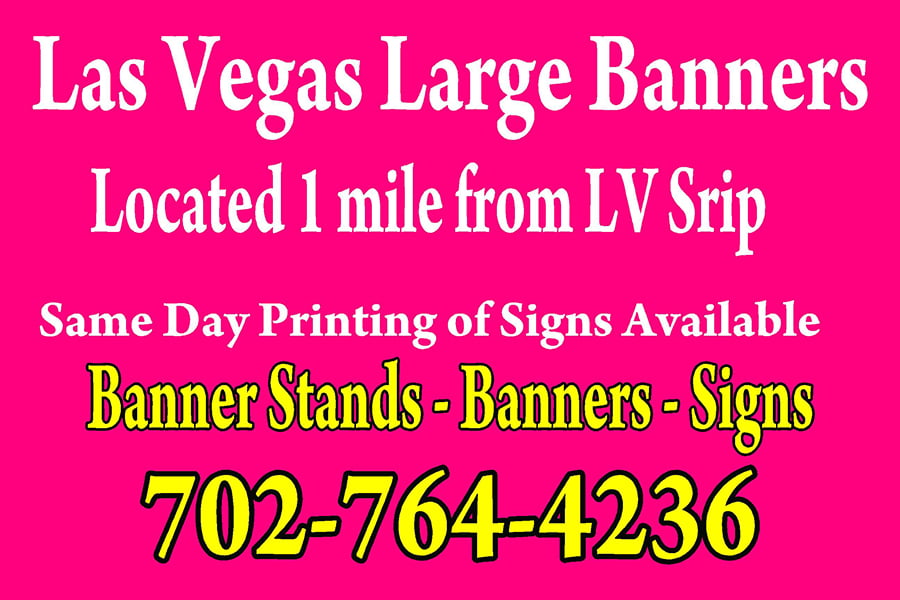 Best Las Vegas Banners Printer Prints Cheap.
Las Vegas vinyl banners are printed on a 13 ounce vinyl banner material. The inks are solvent inks that are guaranteed to last a long time in the outdoors. The banners can be used both indoors and outdoors and are printed with environmentally friendly inks. These inks are designed to last a long time in the desert sun without fading. So that means they will remain bright and vivid for well over a year.
Las Vegas businesses like to use these vinyl banners as advertising. They are cheap enough so that you can rotate the banners. So that the advertisement is always fresh and enticing. Pizza restaurants like to use these banner signs as a way to advertise food specials. The pizza place will display them for a few weeks and then place another banner to be seen. So this method of advertisement always brings new customers. Customers will actually drive by the pizza parlor just to see what the food specials are.
Las Vegas vinyl banners can be printed at local sign shops. Same day banner printing is also available in many cases. Call and ask your banner sign store for more information on these vinyl banners.