Best banners Las Vegas can get you those vinyl banner signs needed for your store or show. Vegas banners are cost effective signage that can be made quickly. Also made at a low price. So many events and shows use Las Vegas banners as backdrop banners and advertising banners.
Vegas vinyl banner signs can be printed in many different sizes to meet your needs. From small one foot banners all the way to 10 feet tall x 50 feet wide banners. These banners are all full color. So that means you can have one color on the banner as well as many colors as you like. So pictures and images can also be printed on the vinyl banner signs.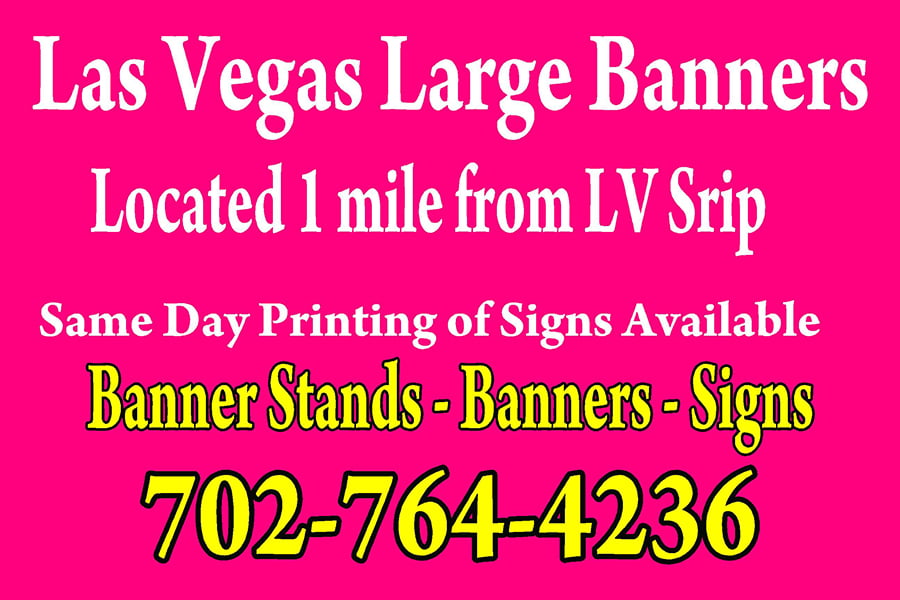 How Are Best Banners Las Vegas Made ?
Banners Las Vegas are printed on a 13 ounce vinyl banner material with solvent inks. These inks are environmentally friendly and ecologically sound. So the vinyl banners can be used both indoors and in outdoor settings. The inks are fade resistant and will last a long time in the hot sun of Southern Nevada. The vinyl banner signs are finished with hemming on the edges for additional strength. So then grommets are placed through the hemming for a solid fitting. So then the banner will be easy to install and display.
Local Las Vegas stores love these vinyl banners. Many pizza places will make several banners and advertise a different pizza special on each banner. So then they rotate the banners weekly or bi weekly so it always appears to have a new food product on sale. Local customers will drive by the pizza restaurant just to see what the food specials are.
Low cost vinyl banners can be found at your local Las Vegas sign store. Give them a call today and see how these banner signs can help your business.