Banner signs 89109 Vegas can get you those Las Vegas banners fast and cheap. The convention and trade show venues are in the 89109 zip code. So the vendors and companies attending these events are always looking for Las Vegas banner signs. Of course they want cheap banners and they want same day vinyl banners 89019.
So vendors and companies displaying at the event center like Las Vegas Convention Center use vinyl banner signs. Because they are cheap and can simply be thrown away at the end of an event. The replacement cost is hardly worth the effort of packing and shipping the large banners back home.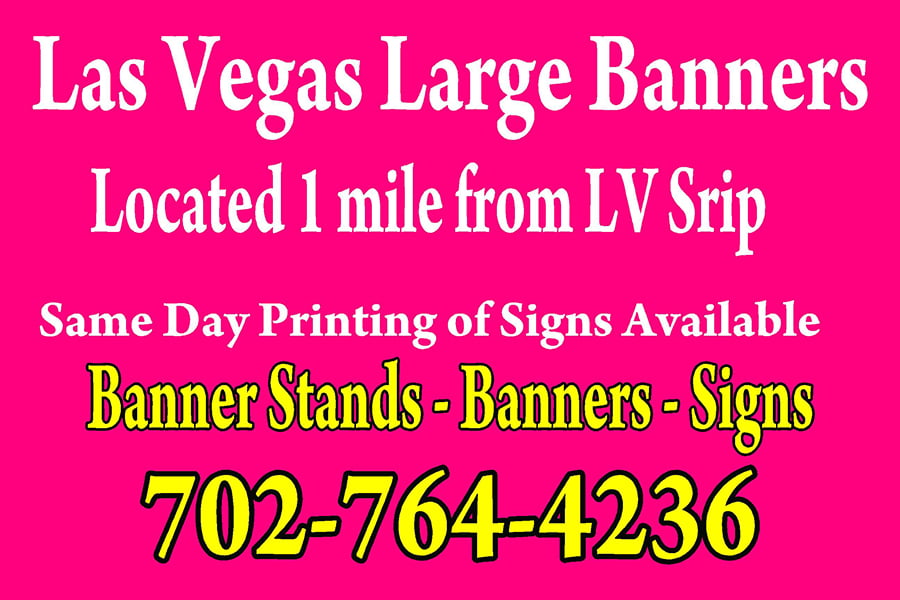 How Are Banner Signs 89109 Vegas Made ?
Banner signs are printed on a vinyl banner material with solvent inks. So these inks bring out the bold and vivid colors of your design. Pictures and images can be printed on the Las Vegas vinyl banner signs. The sign banners can be made to any custom size you like. So printing a 8ft x 50 foot sign banner is not a problem. The banners can also be as small as 1ft x 1ft. Same day vinyl banner printing 89109 is also available in many cases, Companies and vendors often forget their signs back home and need them replaced. Also signs and banners get lost during the shipping process. So in other cases the Vegas signs and banners will get accidentally damaged during transportation.
After print the banners the edges are hemmed for reinforcement. Then grommets are added so that the banners can be displayed easily. The standard grommeting procedure is to place grommets approximately every two feet on all four sides of the banner sign.
Las Vegas banner sign stores will have more information about these low cost signs. Give them as call today and see how vinyl banners can help you.