Banner printing is needed in Las Vegas by the local businesses. It also is needed by the many people displaying at the trade shows and conventions in Southern Nevada.
The local businesses are using Las Vegas banners to advertise. They are placing these Vegas banners on their buildings. So they can be seen by the thousands of vehicles that drive by their location every week. The state of Nevada does traffic surveys and have found that many new residents are moving into Vegas causing traffic congestion. The new residents are a boom for business. Because they need to buy food and other items to live. So as these new residents drive by your business, they take notice of these advertising Las Vegas banners. And hopefully patronize your business. The banners Vegas are cheap in price and will last longer than a year attached to a building.
The banners are full color. So you can print many colors on the banner along with pictures and images. The vinyl banners also come hemmed on the edges for additional strength and with grommets every two feet.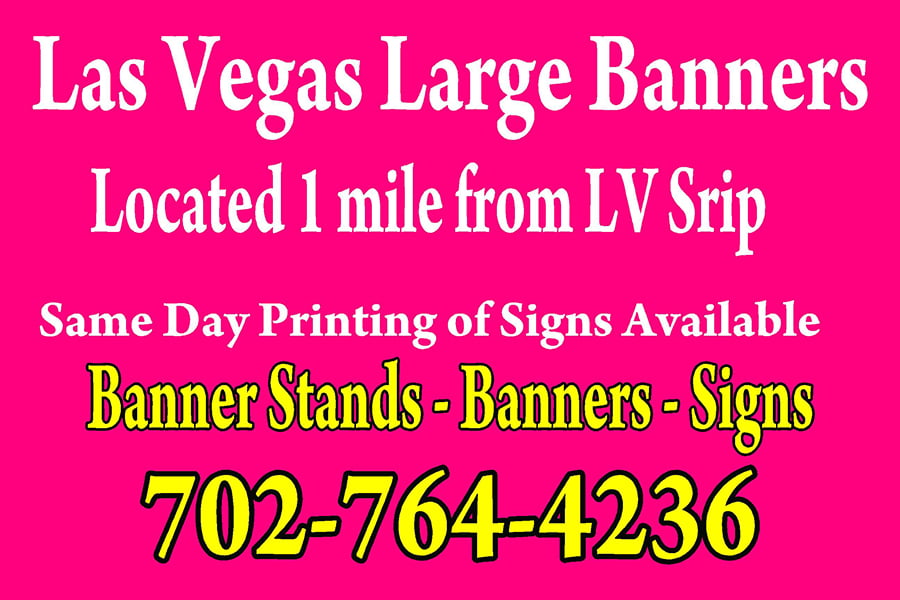 Banner Printing Is Needed For Conventions and Trade Shows.
Las Vegas banners are one of the most popular signs used at trade shows. These cheap banners can be made very fast. The Vegas banners are also custom made to any size you want. The vinyl banners can be as small as 1×2 banners all the way to 10×100 feet long. However, the most popular backdrop banners are the 8×8 backdrop display banner and the 8×10 backdrop banner sign. Large format printers can print these vinyl banners very fast. Same day banner printing is possible.
So contact your local Vegas banner sign company for more information on these banner signs. They will be more than happy to help you.