Banner printing near me is a great search term when you are at a convention venue in Las Vegas. If you are at a convention venue like Mandalay Bay Convention Center. Also the Las Vegas Convention Center. And you need a banner sign. Searching for a close banner sign shop is a wise choice. Time is of the essence when attending a convention. A banner store near you can print those banners and signs fast and get them delivered to you. Also, they can be picked up quickly because they are so close.
Uber and Lyft offer pickup and delivery service for signage as well. Also at a very low price since signs shops are so close. Sign shops that service the convention industry are generally located near the convention venues. Las Vegas Large Banners Sign shop is one such shop that is close to the convention venues. Las Vegas Large Banners is located less than 1 mile from the famous Las Vegas strip.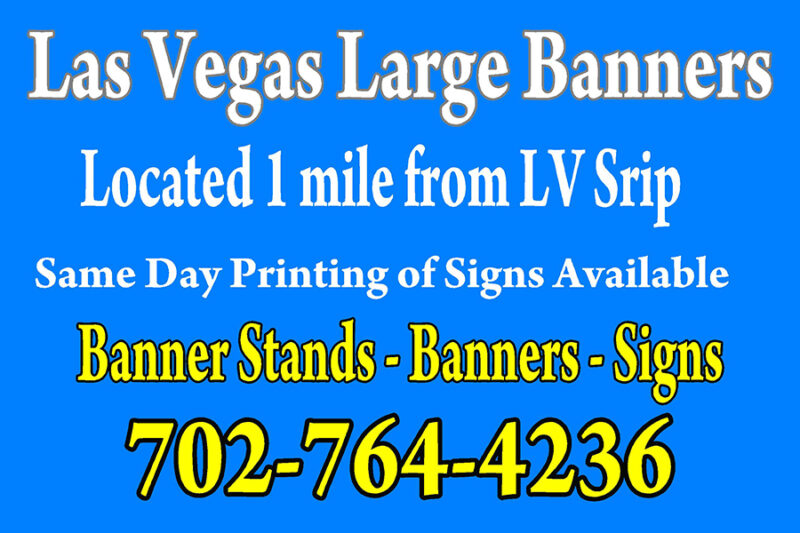 Can Banner Printing Near Me be Same Day ?
Same day printing of banners is possible in Las Vegas. Hundreds of conventions and trade shows occur annually in Vegas. These Las Vegas conventions attract thousands of vendors and companies displaying their products. Also this attracts millions of participants from around the world to see the latest products and innovations. Many Vegas signs and Vegas banners are needed for these events. So when a company brings their own signage from back home, often it arrives damaged. Also it gets lost in the shipping process. In other cases, last minute changes in marketing strategy require new signage. So vinyl banners, foam boards and banner stands need to be made quickly and inexpensively.
Since the banners or other trade show signs are already designed, the hard part is done. Using vibrant colors and simple text go a long way in getting attention. As people attending events and shows are tired and want to be able to quickly understand your signage. Once the banner is designed and turned over to the banner printing company, the sign printing goes fast.
Las Vegas Banner Printers Have Modern large Format Printers
Las Vegas banner printers have state of the art printers capable of printing banners fast and cheap. The speed of the newer printers allows for more production. The quality of the banner printing is leaps and bounds above prior printer generations. The inks used bring out the bold and vibrant colors of your design. The banners are hemmed after printing for extra perimeter strength. So then grommets are placed approx. every 24″ on all four sides to make it easy to display.
Las Vegas has many banner sign shops that can assist you in getting your vinyl banner printed. Also printed at a good price. The sheer number of banner shops means that several sign shops are competing for your business. And offering you the best sign printing prices possible. So shop around and get the best sign banners prices possible.