Banner printing Las Vegas can get you those vinyl sign banners needed for your event. There are many local Las Vegas sign stores with large format printers that can print very fast. These large printers print with higher quality and faster than ever before. So this actually helps bring down the cost of printing banner signs. Because the more volume you can print the lower the production cost. Las Vegas needs high volume sign shops in order to print and fulfill the trade show and convention orders.
Every year there are hundreds of conventions and trade shows in Las Vegas. So these events require a lot of signage. Most of the signage is printed and made in Las Vegas in order to control costs and save shipping costs. Las Vegas needs state of the art sign facilities to make this happen. Thousands of companies and vendors from around the world showcase the newest products and services. So many signs and banners are needed for these events. Also many roll up banner stands are needed as these are popular forms of signage.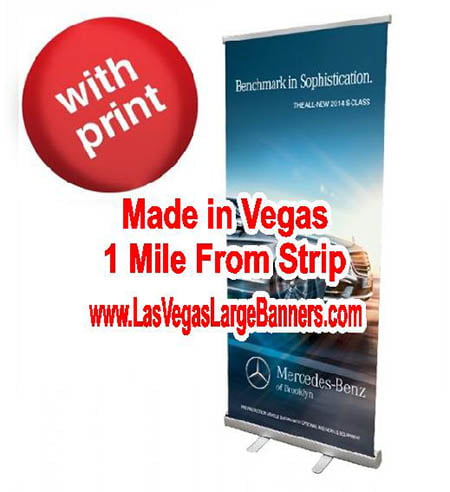 How is Banner Printing Las Vegas Made ?
Banners Las Vegas is vinyl banner signs printed on a 13 ounce vinyl banner material with solvent inks. These solvent inks bring out the best and brightest coloring of your designs. The inks are long lasting and can be used both indoors and outdoors. So these inks are environmentally safe. The banners are printed and then hemmed on the perimeter for extra strength. So then grommets are placed on the perimeter of the vinyl banner . So this allows for easy displaying of your banner sign.
Your local sign banner store in Las Vegas can assist you in getting your banner made quickly. Same day vinyl banner signs are possible. Contact your local Vegas sign store.