Banner maker Vegas can make those Vegas vinyl banners for your business very fast. In these post covid times, many local businesses are learning the value of low cost advertising. These smart businesses are placing Las Vegas banners on their buildings. So this way as people drive by, they act like a billboard. These Vegas vinyl banners can be made to custom sizes. So they can be fitted to the appropriate space available on your store's building. The Vegas custom banners are full color banner signs. Meaning you can do Las Vegas banner printing on them in a variety of colors, including the printing of pictures. So you can actually print merchandise pictures on the banners along with prices.
Your local banner printer will print these banners on a 13 ounce vinyl banner material with solvent inks. These inks are designed to last a long time in the outdoor weather conditions of Vegas. The Vegas banners all come with hemming on the edges. So this allows extra strength on the perimeter along with grommets being placed every two feet on all four sides.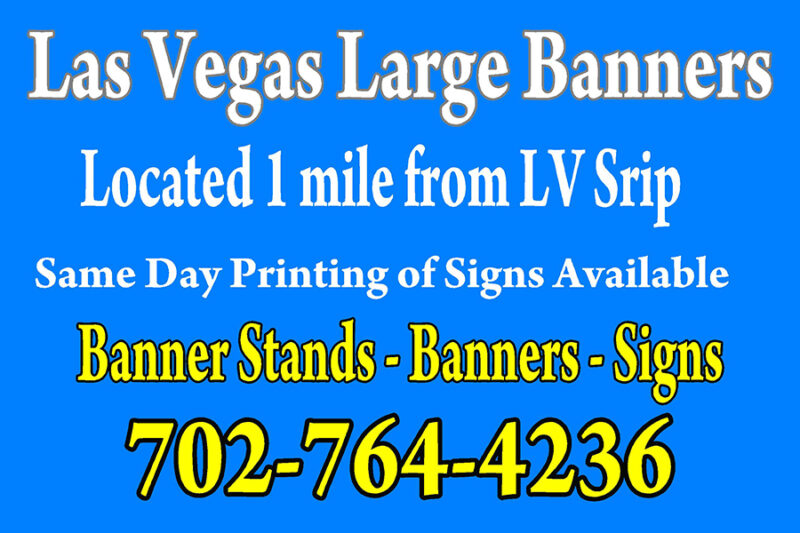 Your Banner Maker Vegas Can Print Really Big Vinyl Banners
Las Vegas stores adjacent to the freeways are really in luck. They are placing large banners Vegas at the rear of their buildings . So they can be seen by the thousands of people driving along the freeways. The spaghetti bowl is one classic example of furniture stores placing large signs on the exterior of their buildings. The banner signs can be seen from the freeways very easily and allow the furniture stores to advertise their products to people on the freeways. They keep the advertising message really simple. So this way the people driving can read it quickly.
Check with your Las Vegas banner sign store for more options and pricing.