8×10 banners Vegas are great for backdrop banners at trade shows and conventions. These 8×10 banner signs seem to fit the rear of the convention booths very well. So they use an adjustable banner stand to hold the banner up. The banner stands adjust in size from about 6ft x 6ft to 8ft tall and 10 feet wide. The adjustable banner stands are easy to set up and take down. You can have pole pockets for the 8×10 banner signs or have grommets places on all four sides. So then you simply use tie straps to display the Vegas banner sign.
Las Vegas large banners are printed on a 13 ounce vinyl banner material with solvent inks. These inks are designed to bring out the vivid and bold colors of your design. The large banners can be made to any size as well. 8×8 banners and 8×10 vinyl banners are common sizes used at the event venues. The banners are all full color. Vegas banner printing allows for any and all colors to be printed on your banner sign. So this includes printing images and pictures on your Vegas banner as well.
Fabric 8×8 banners and fabric 8×10 banners can also be printed on a fabric polyester material. This fabric banner is wrinkle free and can be slightly stretched . It is also machine washable. So you can simply have it cleaned for the next event so it will look fresh and new.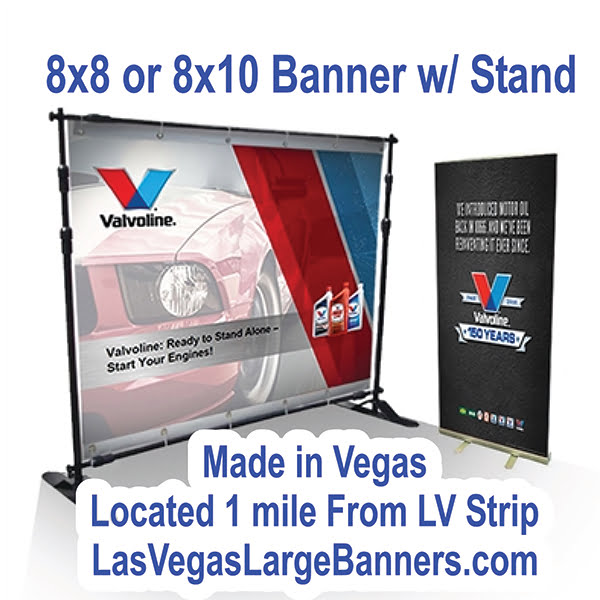 8×10 Banners Vegas Can Be Printed Fast In Many Cases
Large banners are available in Las Vegas. The average turnaround time is 3 days. However, in many cases same day banner printing is available. You just need to check with your Las Vegas banner company regarding their scheduling. These banners can be custom made to any size. So a 10ft tall x 50 foot wide banner is also possible.